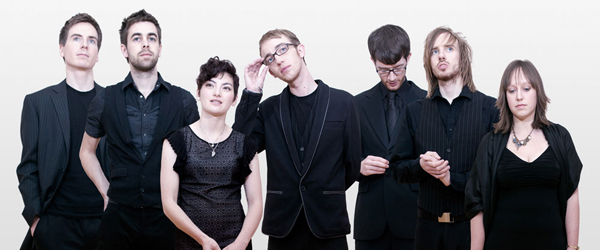 A Genuine Freakshow
Online
"A seven-piece experimental post-everything pop bonanza, and as you'll hear, A Genuine Freakshow are even better than that. What an absolutely marvellous band." – Tom Robinson, BBC 6 Music
A Genuine Freakshow
are an artful blend of pop sensibility, icy soundscapes and blistering walls of noise. Their sound, while impressively focused, covers a range of musical staples, with the group letting influences from
Mew
to
Sigur Ros
and
The National
surface throughout. With a line-up that adds violin, cello and trumpet to the standard rock four-piece of guitar, bass, drums and vocals, their live shows are a master class in how to do epic without slipping into pompous.
Having existed in several incarnations since as early as 2005, the band arrived at their current seven-piece line-up in late 2008, which saw them begin touring and recording in earnest. After a dozen festival appearances in the summer of 2011, including the
BBC Introducing
stages at this year's
Reading and Leeds Festivals
, they spent the autumn touring the UK in support of their single,
Our Bodies / New Houses
, which was released on MP3 via
Peartree Records
on September 26th 2011.
Listen to A Genuine Freakshow
A Genuine Freakshow in the press...