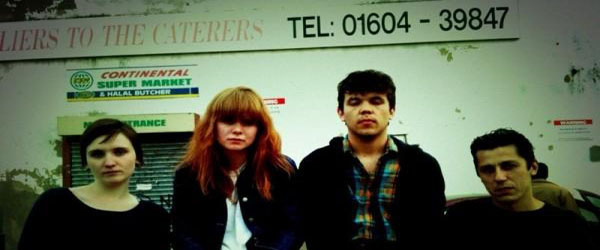 Chapter 24
OnlinePrintRadio
"With any luck they'll be absolutely massive"
- The NME
"Guitars that zap the crowd like some crap UFO movie from the 1950s...a vibrant band"
- Artrocker
Chapter 24
are a London based quartet fast becoming renowned for their thrilling and idiosyncratic live performances. Claire (vox) Mel (bass) Mark (drums) and Joe (guitar) make acid garage rock; or we could call it psychedelic surf grunge, or simply weird pop. This is a band for whom the importance of play, fun, and imagination on stage and in song are certainly not lost on, but they've got the chops to back it up, as a steadily growing bank of glowing live reviews will attest.
The band recently took a little time off from their frantic gigging schedule around London to hit the studio (for a single day!) to record their first single,
Gregory/Down In The Sea
, which they teamed up with independent label
New Pyramid Records
to release digitally over the summer, and in November with a limited to 300 7" vinyl run. A free pair of mp3 downloads will precede the physical single release, taken from their early demos, and it will be accompanied by a sensual, surreal and sumptuously shot video for 'Gregory' that will have you re-assessing how you think of fruit.
Listen to Chapter 24
Chapter 24 in the press...
Features & Interviews