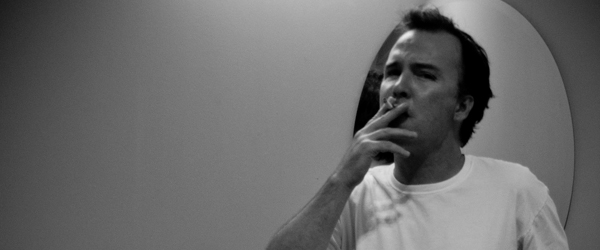 Doug Stanhope
OnlinePrint
"Doug Stanhope might be the most important stand up working today"
– Ricky Gervais

"If there's a comedian out there who is as vital as Stanhope I haven't heard him or her yet"
– The Independent
Doug Stanhope
released his tenth DVD
Before Turning the Gun on Himself
on
Roadrunner Comedy
, the sister label to
Roadrunner Records
, home to bands like
Slipknot
,
Rush
and
Rob Zombie
in March 2012. The DVD came with a bonus audio CD. Stanhope's act offers a potent double dose of the abrasive, brutally honest brand of standup comedy that has established him as a one-of-a-kind phenomenon.
Stanhope's confrontational rants, whose live show was twice named
Best Stand-Up Show
of the year by
Time Out New York
, encompasses caustic social commentary, outlandish first-person narratives, graphic sex and perversion, sometimes within the same sentence. Fuelled by equal amounts of anger, outrage and alcohol, Stanhope rails against western civilisation's slide into apathy and stupidity, always on the edge of implosion yet fully in control and never afraid to risk alienating his audiences.
In a field crowded with conformists and copycats, Stanhope is a genuinely original comic voice, albeit a gleefully vulgar one. "A visionary douchebag" says
The Times
. Raw, agitated and unflinching, he holds forth on all manner of major injustices and petty annoyances, excoriating himself as much as any of his other targets. But Stanhope's venomous bile is matched by his passion and conviction, as well as a fierce intellect that gives his work a level of substance and subtlety that belies his snarling exterior. His comedy is as corrosive as it is hilarious, and his righteous self-immolation is exhilarating and life affirming in its cathartic honesty.
Stanhope completed a 25-date residency in at London's
Leicester Square Theatre
in August 2011 to rave reviews and sold out shows. Metro lauded Stanhope with five stars saying, "Searing, relevant and brilliantly funny, there's good reason why Stanhope is often cited as one of the greatest comedians on the planet… If fearless stand-up is your bag, you'd be a fool to miss him." The comedian has also been compared to such fearless comic revolutionaries as
Lenny Bruce
,
Richard Pryor
,
Sam Kinison
and
Bill Hicks
. But his work makes it abundantly clear that he's a complete original.
Doug Stanhope in the press...
Features & Interviews