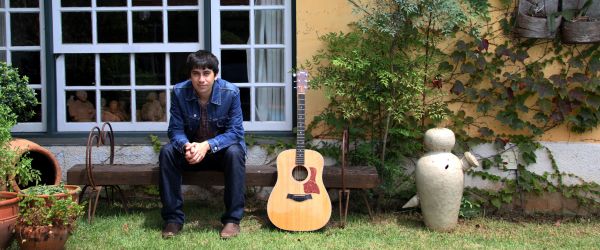 Eric Taylor Escudero
Online
"...haunting and otherworldly..."
- Folk Radio
"...a rich, folk tapestry."
- For Folk's Sake
Brazilian born
Eric Taylor Escudero
has the uncanny ability to evoke a British sensibility in his music, his warming tones a perfect accompaniment to the cold winter months.
Eric's eleven track debut album,
We Were Young And It Was Morning
, reflects his emotionality, incorporating themes of love, loss, nostalgia and the difficulties of living modern city life. The album has a predominantly traditional folk feel and uses a diverse range of instruments such as the harmonica, mandolin, guitar, concertina, glockenspiel and violin, allowing Eric to experiment with arrangements, creating wistful, immersive folk music.
Having been influenced by 60s and 70s folk-rock from an early age, it's no surprise that Eric's music has blossomed in the way that it has, his impressive vocal delivery is comparable to some of the leading folk artists this country has to offer, conjuring memories of the likes of
Idlewild
's
Roddy Woomble
and
Johnny Flynn
. The album sees Eric collaborate with the magnificent
Ana Luísa Ramos
who performs on backing vocals, her voice complimenting Escudero's perfectly, as their soft, harmonious vocals merge beautifully, particularly on tracks such as
We Were Young and It Was Morning - Part 1
and
The Uncountable Colours of The Sky
.
After playing in several rock bands in his hometown of São Paulo, Eric decided to go it alone and has since released three EPs -
Lines We Wrote in Spring
,
Northern Lights or Summer Skies
, and
Big City Lights
.
We Were Young and It Was Morning
combines Eric's previous EPs into a creatively arranged package. The album was recorded in Austin, Texas and features Eric Taylor Escudero (vocals, guitar, harmonica, mandolin), Ana Luísa Ramos (vocals and keys),
Marco Minoru
(bass and acoustic guitar) and
Tomás Telles
(drums).
Having already made a name for himself in Brazil with features in publications such as Brazil's
Metro News
and
505 Indie
, Eric is excited to share his emotive, affecting music with the rest of the world.
We Were Young And It Was Morning
is out now via
City Lights Produções
.
Eric Taylor Escudero in the press...