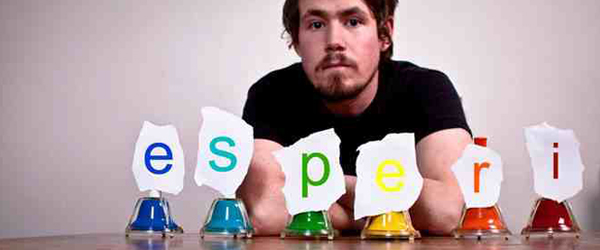 Esperi
OnlinePrintRadio
"Juxtaposing acoustic guitar and a whole host of odd instruments and percussion, Esperi mainman Chris Lee-Marr seems to be making all the right waves." – The List
Hot on the heels of his EP,
Melancholics Anonymous
,
Chris Marr
's
Esperi
continue to produce a high level quality of output with the release of debut album
In A Moment, Emotion, Sentiment
released on July 2nd 2012 via
Fall On Records
.
The record continued Marr's exploration of the heartfelt moments of his and our lives, with touching lyrics that convey a naivety and sensitivity. It's this child like view of the world that sets Marr apart from his contemporaries and is aided by his use of everyday items as musical instruments. While acoustic instrumentation is mainly the order of the day, tracks such as "Dialled" illustrate Marr's uniqueness with the sounds of his bike recorded onto the track. Children's toys and everyday tools heavily influence proceedings on "Hearts Part 2", as weird and wonderful sounds envelope the listener throughout the ten minutes and 15 seconds closing track.
Producer
Robin Sutherland
recorded the album on the East Coast of Scotland featuring an array of guest musicians such as Jon Adams (
Vasquez
) on drums, Kevin Black (
Laeto, Fat Goth
) on bass, Ged Grimes (
Deacon Blue
) on double bass and the
Korda Quartet
all featuring. The end result is a record rich in both lyrical content and musicianship further enhanced by Marr's whispering gentle tones and expert guitar picking skills.
Having previously gained support from the likes of Q Magazine (online),
The 405
,
Drowned In Sound
and
The List
,
A Moment, Emotion, Sentiment
is a stylish debut album. It capped a predictably eventful six months for Esperi, having released an EP, a debut album, embarked on a UK tour and played a showcase at
GoNorth
.
In A Moment, Emotion, Sentiment
was released on
Fall On Records
on July 2nd .
Listen to Esperi