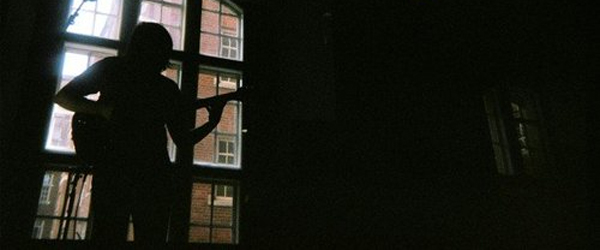 Geordi La Force
Geordi La Force
has come a long way since his humble beginnings back in Glasgow. He's played a plethora of shows in his short existence – London's
DIY Summer Festival
, support slots with Japanese band
LITE
and
The Paper Chase
, to his more recent
Hinterland Festival
appearance alongside bands like
Sucioperro
and
Brigade
. This one man band has proved that just because you play with a laptop, doesn't mean you're
Aphex Twin
!
Geordi La Force
is the epitome of alternative rock. Amongst music fans and musicians alike,
Geordi
has impressed every single person who has stood witness to his lightning-fast riffs whilst maintaining a melodic edge – the mark of not only a supremely talented musician, but an excellent songwriter.
"An interesting one-man outfit as bizarre as his monicker..."
–
Kerrang!
, 4/5
"You'd be forgiven for thinking you were about to witness a full band judged on the strength, sound, and intricacy of the backing tracks."
–
The List
"...the one man tour-de-force, Geordi la Force, whose incredible technical guitar playing skills, alongside some spectacular visual accompaniment, was a sight to behold"
–
Stereokill.net
In his short existence, he has self-recorded and released
'A Cheap Looking Demo'
, which received a rave review in
Terrorizer Magazine
, and
'Aulophobia'
– his debut album.
"Wholly bizarre Don Caballero-isms... given an expensive studio who knows what he'll concoct."
–


"An interesting, scouring blast of instrumental, drum-machine metal with less emphasis on shredding and more on atmosphere and intensity." – Subba-Cultcha

In a time of uncertainty and musical malaise, Geordi La Force continues to push boundaries. He draws his influences from bands like Dillinger Escape Plan, At The Drive-In, Chick Corea and his ultimate musical influence, Allan Holdsworth. He doesn't believe in limiting yourself to one genre, he believes in looking forward, making people think and not taking the whole thing too seriously.

In his opinion, music should be fun, and this is displayed best in his live performances where he uses a mix of visuals from clips of famous anime to cult TV programs as a backdrop to the music (where else can you witness Chuck Norris exercise in time to challenging alternative rock!). There's always a danger of this sort of live performance being to "niche" but throughout the laughs he gains from the audience, this man is engaging, the music is wholly captivating and is an experience you'll wish you had again and again.
Listen to Geordi La Force
Geordi La Force in the press...
Features & Interviews