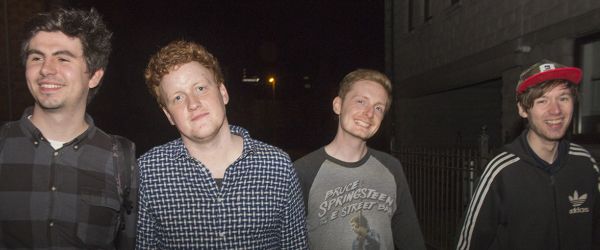 Lenin Death Mask
Online
The wonderfully named
Lenin Death Mask
have begun to make a name for themselves lately in the bustling Aberdeen music scene. Known for their raucous, energetic live shows, the band have now taken that energy and transferred it to the studio where they have created a challenging alt-pop three track EP,
Three Hits
, which is out now via
Fitlike Records
.
Combining elements of punk rock, post-punk, pop and the more challenging, complex technicalities of math-rock, Lenin Death Mask have produced an EP full of head-bopping dynamism that will have you coming back for more and more.
Three Hits
is impossibly charming with the band able to showcase their enviable ability to produce genre defying music with time changes galore executed with a technical aplomb. Having pulled on a wide range of influences from
Hall and Oates
to
Minutemen
, Lenin Death Mask have evolved a sound akin to the bastard child of
Tera Melos
having a fight with
Maps & Atlases
officiated by members of
Hella
. If that doesn't sound intriguing, you must be dead inside.
The current line-up comprises
Craig Scott
(guitar/bass/vocals),
Tom Gilbert
(guitar/bass/vocals),
Peter Taylor
(guitar/vocals) and
Thomas Emslie
(drums) having originally been formed by Craig and Grant Pirie in 2012 with the aim of producing music that wasn't bound by set formulas. This certainly shines through as joyful, uplifting music is juxtaposed by lyrical content that, at times, can be emotionally charged.
The EP was recorded by
Phil Booth
at
JT Soar
in Nottingham and was mixed by
Joe Caithness
of
Subsequent Mastering
. With the release on the horizon, the band will be setting up for a busy end to the year as they embark on a UK wide tour from with
Amy Grindhouse
from 20th November and make their first festival appearance when they take to the stage at
Book Yer Ane Fest
which is hosted by
Make-That-A-Take Records
in Dundee at the end of this year.
Three Hits
is out now via
Fitlike Records
.
Listen to Lenin Death Mask
Lenin Death Mask in the press...
Features & Interviews