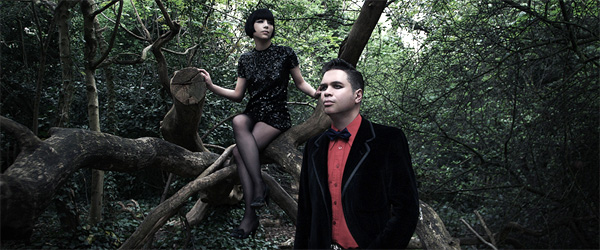 Phantom
ManagementOnlinePrint
"The aural equivalent of a black cat sneaking across silk sheets..." - Q Magazine
Montreal-born,
Phantom
chanteuse, guitarist and songwriter
Elsie Martins
was known in her Canadian homeland as a much-loved
MusiquePlus
music television presenter/journalist. Elsie left a burgeoning television career to relocate to London, UK, where she met
Jonny Martin
and formed Phantom.
Phantom's debut single,
Great Pretender
, was released in September 2009. It was produced by
James Aparicio
, who's worked alongside bands such as
XX Teens
,
These New Puritans
and Phantom favourites
Nick Cave
and
Mogwai
With their debut album -
Smoke & Mirrors
- Phantom created a new percussive landscape for their music. They used recordings of places, objects and sounds found organically around them, both familiar and alien: an antique typewriter thump, the flap of a letter dropping through a letter box, heels clicking on concrete, the Mars Space Rover rumbling across the surface of the red planet. Each sound was carefully treated and morphed into a rhythm to support compositions.
Phantom's strength is being able to create an atmosphere; therefore it's apt that the album - provided in two 22-minute parts with no track marks - is seamless when played in sequence. The songs build and bleed into one another just as they do during Phantom's captivating live set. A remix of "We Float" by
Death In Plains
is also featured on the album. Death In Plains is a visual/musical adventure, the brainchild of
Enrico Boccioletti
, who creates a sound that joins
Fuck Buttons
to
Jesus and Mary Chain
via
MGMT
.
Smoke & Mirrors
mysteriously transported you into Phantom's world of alluring, sensual sounds, captivating your imagination and enticing you into their silky neo-noir musical landscapes.
Listen to Phantom