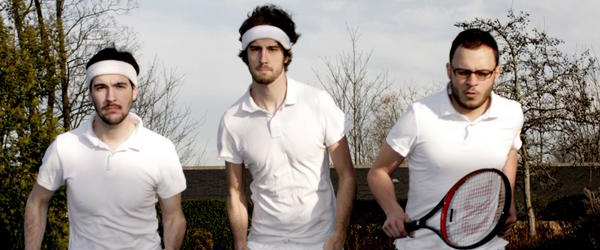 Super Tennis
OnlinePrintRadio
Based in North London,
Super Tennis
is a three-piece band playing indie-pop that
Henman
would approve of, but they don't care because
Tim Henman
is a dork.
'Super Tennis Theme Song'
is the perfect example of what
Mike Williams
describes as 'wrong-pop'. Make of that what you will. A three way yelped vocal attack, extolling the virtues of 'hawkeye' technology and 'colour tv', it's a two-minute blast of infectious lo-fi pop that will leave you with a grin.
Formed in 2007,
Tom McEnro
(guitar),
Kev Perry
(bass) and
Bob Beker
(drums) draw influences from bands such as
Karate
,
The Dismemberment Plan
and
Hall and Oates
, melding them together to form an exciting and unpredictable collection of songs for this debut record. Recorded with
John Hannon
at
No Recording Studio
, the 10 inch release is backed with three accompanying tracks. The raw and breathless charm of
'Billy Ocean'
is complemented by
'Yaphet Kotto'
and brooding 7-minute closer
'The Pacific Has No Memory'
.
With a sound and ambition that gives nods to post rock and math rock, and an intention to root their songs in pop, this is a melodic and beat-heavy record for people who like shouting, smiling and having a good time, all the time.
Super Tennis in the press...