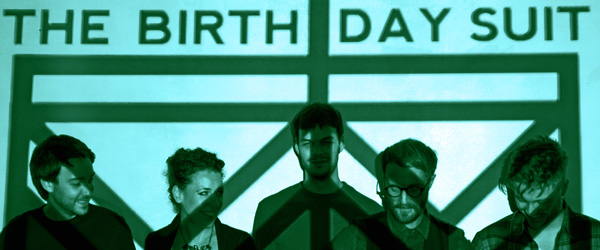 The Birthday Suit
OnlinePrint
"...marking their place in the rich field of Scottish rock." - NME
The Birthday Suit
's third album
A Hollow Hole Of Riches
was their most cohesive yet. Returning in November 2013 with single
A Bigger World
, the track earned the band a place on
XFM
's evening playlist as well as a guest spot for frontman
Rod Jones
on
Steve Lamacq
's Roundtable on
BBC 6Music
. With this album, it felt as though Rod transcended his Idlewild roots, proving himself to be one of Scotland's finest songwriting talents.
Opener,
A Bigger World
features
Scott Hutchison
of
Frightened Rabbit
- it's a rousing three minutes of swelling vocals, strings and catchy riffs. Rod's ear for a catchy indie tune was also present on second single 'All Of this Everything' and 'Sold Your Soul' and it becomes quite apparent who melodic backbone of Idlewild was. However, there are also really beautiful moments as well as the 'foot stompers' on the album. 'Love Isn't Love' is elegant and honest, whilst 'Tonight Is Broken Hearted' feels like the band's defining anthemic moment in the sun.
Having written three albums now with The Birthday Suit, Rod has had a chance to play with the music, stretching his boundaries and finally enjoying making music for the pure love of it after 15-years writing and recording with Idlewild. He's grown into his frontman shoes, which is apparent live with Rod's self-deprecating humour, wit and hard working passion coming to the fore.
A Hollow Hole Of Riches
is about isolation - each one of us existing within our own small world, but that's not to say the lyrics are bleak - far from it. It's a celebration of diversity, and the constant shifting nature of perspective. Rod has used this new perspective to grow into a better musician and songwriter.
A Hollow Hole Of Riches
stood out as the band's statement of intent moving forward as a group and not just Rod Jones and The Birthday Suit.
The Birthday Suit's second single
All Of This Everything
was released via
Sing It Alone
. The single was chosen by
Steve Lamacq
's
BBC 6Music
listeners, with fans choosing between two tracks from the forthcoming album (
A Hollow Hole Of Riches
) -
All Of This Everything
and
Tonight Is Broken Hearted
.
A Hollow Whole Of Riches
is out now via
Sing it Alone
.
Listen to The Birthday Suit
The Birthday Suit in the press...