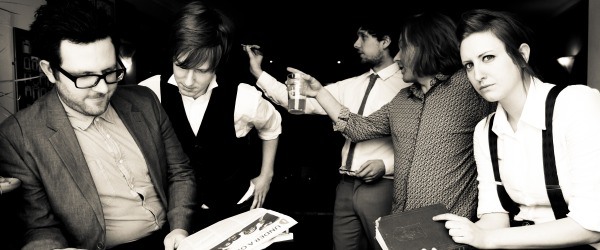 The Deep Red Sky
Online
Alternative indie band,
The Deep Red Sky
, released their
debut album Plans
earlier this year.
Citing the influence of
The Twilight Sad
and
Frightened Rabbit
in their development, the band created a sound with introspective characteristics allied with more accessible vocal melodies, the likes of which
Arcade Fire
,
Snow Patrol
and
Biffy Clyro
would be proud of.
Their single,
Look On Your Face
, encapsulated the band's subtle, yet imposing sound, and brought their luscious vocals to the fore.
Look On Your Face is available to stream on the band's Bandcamp page
.
The Scottish 5-piece, consisting of
Jamie Craighead
(lead vocals, guitar);
Jesse Stoddard
(keyboard, backing vocals);
Jos Collins
(guitar, glockenspiel, backing vocals);
Scott Cousins
(bass) and
John Alexander
(drums), originally formed as a three piece when Jamie, Scott and John met at Napier University in Edinburgh. With the introduction of Jos and Jesse, the bands sound subsequently progressed as they developed the stunning harmonies and layered, atmospheric epic moments that can found on the album.
Alongside
Look On Your Face
, album tracks such as 'Getting Easier', 'Plans' and 'You Had it All' are real highlights and truly showcase The Deep Red Sky's writing skills - as well as their ability to create both challenging and eminently listenable tunes.
Plans
was the perfect climax to an exciting year for The Deep Red Sky. Beginning with the
release of the free download track 'Zombies'
, following up with single
Look On Your Face
and completing their first UK tour.
Plans
by
The Deep Red Sky
is available to
buy on iTunes
.
Listen to The Deep Red Sky
The Deep Red Sky in the press...
Reviews