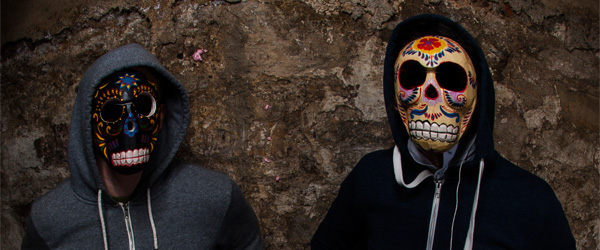 The Fire And I
Online
"TFAI make an urgent and exciting new noise. One to take notice of." – The List
The Fire And I
follow up the recently released 'Double Kamikaze' with another free download - album track 'Ruined Graffitied', taken from the bands second album,
Double Kamikaze
, and released on
10th March
via
CarCrash Records
.
On 'Ruined Graffitied', The Fire And I showcase the skills that scored their album a 7/10 review in
Rock Sound
Magazine. Stoner-rock influences are laced throughout the track as dirty, heavy guitar takes centre stage aided by distorted vocals and a snapping, forceful drum beat.
The Scottish based two piece, comprised of bassist
Gordon Love
and drummer
Hooligan Sadikson
, were originally four. However, rather than finding new members, the pair decided to keep their minimalist bass / drums set-up, sharing vocals. Their acclaimed live performances have become a thing of legend on the live circuit - adrenaline-fuelled, no holds barred spectacles, their tracks burst to life on stage.
This high-octane noise is felt throughout the album. Opener 'Devil Damned Thoughts' is purely instrumental, showcasing the band's love of the riff; there are hints of
CKY
meets
That Fucking Tank
- an exciting start and you can almost feel the sweat pouring from the speakers. Title track 'Double Kamikaze' could easily have made
Queens of the Stone Age
's 1998 self-titled debut - unapologetic dirty rock. However, When The Fire And I calm the pace, their softer underbelly also has great potential - there are real shades of light on 'Coming Loose' akin to early
Biffy Clyro
's quieter moments. Nevertheless, they don't stay quiet for long, and the album is pure heart-pounding alt-rock.
Since their debut album
Stampede Finale
, the band have been honing their sound, with their aforementioned live performances being their ace in the hole and, as well as sharing a stage with
Biffy Clyro
, they've also headlined the
T in the Park
T-Break
stage. Having picked up support from the likes of the aforementioned
Rock Sound
,
Artrocker Magazine
,
Mad Mackerel
and
Jim Gellatly
, the band are now ready to unveil
Double Kamikaze
as well as continuing their tour of the UK in March before heading off to Europe.
Double Kamikaze
was released on
CarCrash Records
.
Listen to The Fire And I
The Fire And I in the press...