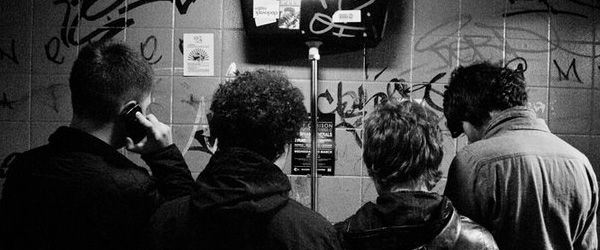 The Marivaux
Online
The Marivaux
EP
All In Good Time
was released via
AWAL
on
10th November  2014
. 
The EP is about 'no hopers'; the endless falling, standing and repeating that each generation has to deal with, the overall message being simply to chill out and enjoy the ride. Each track is filled with a classic underground rock sound with lots of good old fashioned noise and lead singer
Phil McAdam
's northern slurs completing the package. 
The EP kicks off with single, and EP title track,
All in Good Time
, immediately giving a real sense of what's to come – loud guitars, loud drums and dirty vocals, with nods to
The View
,
The Libertines
and
The Enemy
. The final two tracks, Dubstep and Drum & Bass remixes of 'Insides', are jam packed with enticing climaxes and fat beats that you can't help but get up and move to.
Named after the French Novelist and Dramatist
Pierre Carlet de Chamblain de Marivaux
 after reading Marivaux's
L'Île des Esclaves
(Island of Slaves), the band found themselves resonating with the play's themes of power and servitude and how they affect (or indeed, corrupt) the individual. 
Phil McAdam
(vocals/guitar),
Rik Packer
(bass,vocals),
Matt Shields
(lead guitar) and
Ben Peacock
(drums) wanted to make more out of a life of dead end jobs and the strangling recession. They took to music to escape, creating memorable and lovable tunes inspired by the likes of
The Stone Roses
and
The Buzzcocks
.
The band have played sold out shows in Manchester as well as abandoned mansions (like the Belgian Embassy) in Rusholme. They have also supported the likes of
The Futureheads
and
George Borowski
and have held shows at
Liam Gallagher
's
Pretty Green
stores nationwide. The boys are also set to tour the UK in September and October and Europe in November.
All In Good Time
is out now via
AWAL
.
Listen to The Marivaux
The Marivaux in the press...
Features & Interviews
Reviews