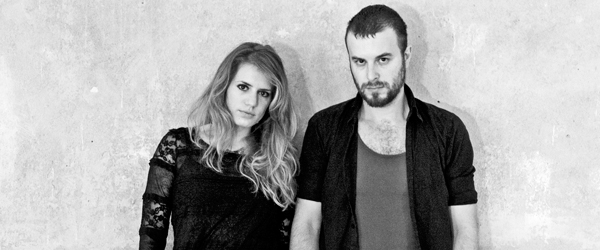 The Unkindness of Ravens
OnlinePrintRadio
"Genuine contenders for being one of the best underground electro bands out there at the moment..." - Artrocker Magazine
The Unkindness of Ravens
are the hardest working underground electro-rock duo on the scene. After two prolific years of releases, videos and live shows
Nina Wagner
(vox) and
Ben Raine
(bass & vox) are ready to release their next single
Last Call For The River
, taken from their forthcoming debut album
Virus
.
The band have previously been compared to
The Kills
, which is not bad at all, but the pair have taken their sound further than the usual indie electro clash vibe of their peers, transcending all genres - electro, rock and indie.
Last Call For The River
, features their signature sound of hypnotic, pumping beats supported by Ben's cacophonous bass lines and Nina's sexy, sultry vocals. As Nina seductively calls "I was made this way", it feels as though they've trapped you in their melodic web, with no escape, and after this intense 3-minutes is over, you'll be left wanting to hear more..
These last few years have seen Nina and Ben release a slew of singles -
Dead Air
and
White Road
culminated with the band's first EP relase in 2010,
I Used To Be So Pretty
. Excellent reviews and coverage followed from magazines like
Rock Sound
to
Artrocker
and an array of features online on
Clash
,
NYLON
and
The 405
.
In 2011, the pair focussed on playing shows around Europe, particularly Berlin, where they now sometimes base themselves to write and record. Just before the end of last year, they released the double a-side single
Virus | Viper
, the video for which appeared on
NME.com
amongst an array of other online hubs. In fact, the band have become known for their unique style when it comes to their videos with the visuals for
Virus
being hailed by the band as "a cross between Blade Runner and Black Swan".
The Unkindness of Ravens
are one of the UK's most exciting underground prospects.
Last Call For The River
will be released on
March 5th 2012
on
Sonic Fire Records
, with their debut album set to drop in May 2012. The the future looks exciting indeed for
The Unkindness of Ravens
.
Listen to The Unkindness of Ravens
The Unkindness of Ravens on tour
The Unkindness of Ravens in the press...