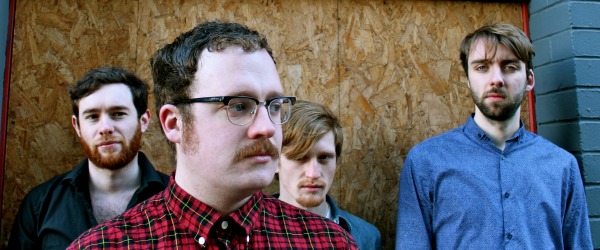 Three Blind Wolves
OnlinePrint
"Stadium sized melodies and four-part harmonies without diving headlong into a pool full of clichés..." - MOJO Magazine
After two successful singles and a tour with
Frightened Rabbit
, Glasgow four-piece
Three Blind Wolves
released their fantastic debut album
Sing Hallelujah For The Old Machine
on
27th May 2013
via
Instinctive Racoon
.
Singles
In Here Somewhere
and
Parade
could easily be compared to artists like
My Morning Jacket
and
Neil Young
but there are moments where the band moved beyond their trademark Americana influences. "Honey Fire" crescendos into an ambient wall of sound, suddenly transforming into a grungier chorus. "Slow Summer Deer" is big, bold and brilliantly indie yet "When The Garden Gets Near" is more intimate - just Ross Clark on his acoustic guitar. It feels as though the band are pushing and pulling you through a journey of emotion.
Parade, gained support from
John Kennedy
(
XFM
) and
Vic Galloway
(
BBC Radio 1 Scotland
) with the band also being asked to perform a session for
Dermot O'Leary
(
BBC Radio 2
). Their second single,
In Here Somewhere
, saw the boys take to the road with fellow Scots Frightened Rabbit, supporting the northern leg of their tour.
Singer
Ross Clark
started out as a solo artist playing gigs in Glasgow, after meeting
David Cleary
(lead guitar, backing vocals, mandolin),
Kevin Mackay
(bass, backing vocals) and
Fearghas Lyon
(drums, backing vocals) from their own musical adventures, the four bonded instantly and formed a band. Over the past three years they have toured across the USA, Canada, The Netherlands and the UK extensively, including showcasing at
SXSW
,
CMW
and
Eurosonic
in 2012 and major festivals such as
T in the Park
,
Hop Farm
and
The Great Escape
.
Their mini album
Sound of the Storm
in 2011 had
The List
hailing them as a "countrified Modest Mouse".
The Skinny
compared them to
Bright Eyes
and
Bon Iver
whilst
Rolling Stone
noted comparisons to the
Decemberists
. More recently
The Vinyl District
hailed the boys as "the most important new band to emerge from Scotland this year".
Listen to Three Blind Wolves
Three Blind Wolves in the press...