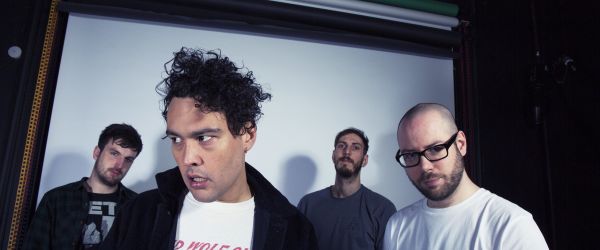 United Fruit
Online
"A rich blend of alt-rock with pop structures…"
- Spin
"...the kind of pummelling instrumentation you'd find on main stages the world over." - DIY
"...A snorting, snarling, four piece rock explosion…"- Clash
United Fruit
's second album
Eternal Return
, out now, is a heart-pounding blast of energy, hope and passion. Featuring some of their most accomplished songs to date, each track unfurls and bursts into a cacophony of riffs, high soaring vocals and hectic beats that will leave you exhilarated by the end.
The Glasgow based four-piece have taken their time with
Eternal Return
, slowly teasing fans over the last few years with single
Open Your Eyes
and their
Nightmare Recovery
EP, which features three tracks on
Eternal Return
- 'Ghost Inside Your Head', 'Nightmare Recovery' and 'Cause And Effect'. Press were quick to pick up on the band's thrilling punk rock sound with
The 405
noting that, if played loud enough, 'Nightmare Recovery' would 'probably wipe all that shit off your face'.
Stereogum
also featured 'Ghost Inside Your Head' after the band played a showcase for the critically acclaimed site at
SXSW
plus
DIY
,
Drowned in Sound
,
Clash
and
The Skinny
have been strong supporters of the band.
More so than ever before,
Iskandar Stewart
(vox, guitar),
Stuart Galbraith
(guitar, vox),
Marco Panagopoulos
(bass) and
Dean Inglis
(drums) have brought together their love of discordant, dissonant chords and melodies then destroyed the rule book and created their own unique sound upon its smouldering ashes. The result is
Eternal Return
- an eleven song beast that combines angular alt rock and pop, drenched in love, sweat and optimism.
From the uplifting riffs and driving beats, which channel the
Smashing Pumpkins
filtered through an early
Rival Schools
lens, on 'Where The Sun Beats Down' to Iskandar's signature anthemic rock vocals on 'Golden Days',
Eternal Return
feels like an exciting journey for the band and one that only scratches the surface of what's to come.
Eternal Return
is out now.
Listen to United Fruit
United Fruit in the press...