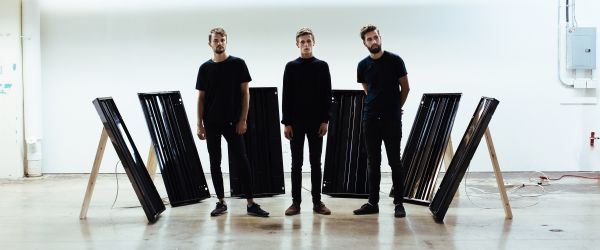 We Are The City
OnlinePrint
""...a band for the long haul." - Drowned in Sound
"...billowing, headily inventive music…" - Clash
"...swirling psych, pristine chart-worthy hooks and dreamy atmospherics…" - The Line of Best Fit
We Are The City
's latest album
Above Club
is quirky and experimental journey in sound, following on from their album,
Violent
, which was released earlier this year receiving praise from the likes of
Drowned In Sound
and
The Line Of Best Fit
.
The Canadian three piece recorded the album via a live stream on their website throughout October, where fans could watch the band eat, breathe and sleep the writing and recording process.
With a blend of
Cayne McKenzie
's tropical keys and distant ethereal vocals with
Andrew Huculiak
's tribal drums and
David Menzel
's minimalist and atmospheric guitar, the trio create a whirlwind of music that elevates the listener to new heights. There's also a strong message of positivity in the lyrics as, faced with the trials and tribulations of life, no matter how tempting withdrawal from the world can be, it's important to power through and find the strength to carry on.
We Are The City are also talented directors, script writers and film producers, creating their own music videos and even their own film
Violent
. The band's influences range from
Deerhoof
to
Bowie
and although this can be heard in their quirky, off kilter time signatures and whimsical melodies, they've very much carved out their own personal sound.
We Are The City
's
Above Club
is out now via
Sinnbus
.
Listen to We Are The City
We Are The City in the press...