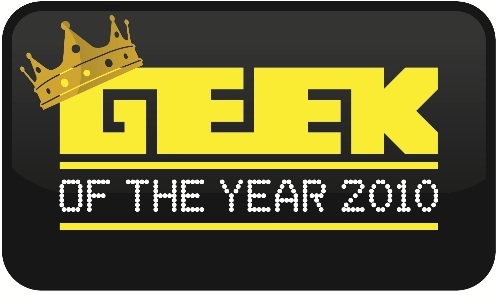 Geek Of The Year
OnlinePrint
In November 2010,
www.geeks.co.uk
asked us to event manage the first annual
Geek of the Year
event. This casual, friendly and quirky awards ceremony was to celebrate what it meant to be a "geek" in the 21st Century. The event was held at
The Underbelly
in Hoxton with a panel of judges in place to crown the first Geek of the Year 2010 - one such judge being
The Inbetweeners
' writer
Iain Morris
.
The evening featured stand up comedy from
Tiffany Stevenson
,
Adam Bloom
and
Carl Donnely
with music was provided by
ABoF
's very own
Ex Libras
. The evening ended with a DJ set from awards circuit DJs
Pipe N' Slippers
.
The evening was a success with a whole stack of brilliant comments on the night. Comedian
Adam Bloom
mentioned it was one of his "best shows ever", whilst Geeks' Editor
Ally Millar
gave a glowing review:
"When we're organising our next event, ABoF can expect their phone to ring.

"Their attention to the finite, and the fundamental, details of planning during the Geek of the Year event ensured we had the awards show that we wanted from the outset."
ABoF provided the following services:
Event Management
- Organised and liaised with the venue.
- Organised the evening's entertainment.
- Managed the guestlist.
- Managed the budget.
- Managed the door, liaised with guests and ensured the smooth running of the evening.
- Coordinated the filming of the event.
Online PR services
- Researched "geeky" bloggers, websites and freelancers.
- Managed the invites and press mailouts.
- Managed Geek of the Year's social networking sites (Facebook and Twitter).
- Liaised with online press, set up interviews with the comedians and Geeks Editor Ally Millar.
All images used with permission from
Adi Wickramaratne
.
If you have an event you would like to discuss with us, please drop us an email at info@abadgeoffriendship.com.
Geek Of The Year in the press...