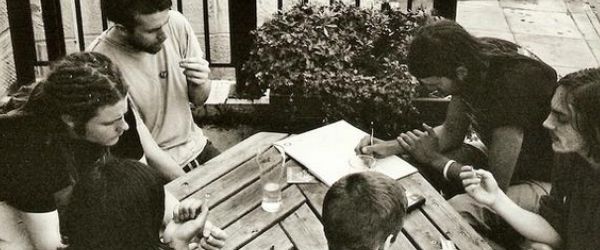 Sotones
OnlinePrintRadio
Sotones
began as a night that brother Rob and Dave Wade-Brown promoted at Southampton club circuit venue
Lennons
from 2004. The brothers soon found that the success of the night meant they needed help from their musician friends to promote it. By 2007 it was apparent that there was enough great music sloshing about to be worth documenting, so at a party in 2007 the pair decided to bring Sotones to a wider audience.
Sotones was founded as a co-operative. This means that the artists are also members, who own the label entirely together and are able to hire and fire the staff each year at the AGM. The 'staff' in question is also largely made up of artists, but Sotones also rely on volunteers and interns.
That first label sampler was reviewed in
Kruger Magazine
and airplay on several local BBC Introducing shows. It featured artists who are still with Sotones today as well as
Blakfish
and
Band Of Skulls
(then known as
Fleeingnewyork
) who have since gone on to do great on their own.
Since its' inception, Sotones has come leaps and bounds with the first new signings since 2007, a distribution deal with
Believe
and their first 12" and 7" releases as well as founding a publishing arm. A highlight of summer 2009 (alongside festival spots for various Sotones artists at
Glastonbury
,
SGP
,
Bestival
and
Burningman
among others) was the
Bike Tour
, where Sotones'
Lonely Joe Parker
played twelve dates in fourteen days, traveling between shows by bicycle and co-headlining with other Sotones artists along the way.
Sotones acts have played across the UK as well as Ireland, France, Belguim, Italy, Spain, Estonia, Germany and the US. These include support tours for
The Ting Tings
,
The Holloways
and
Mystery Jets
, as well as requested support slots for
Noisettes
,
Thomas Tantrum
,
Delays
,
SixNationState
and
me:one
.
The label has released over 25 records and the label's output has received local and national radio play on
BBC
stations including
BBC Radio 1
,
6Music
and
Radio 2
as well as
Xfm
and
Resonance FM
. Sotones artists have caught the attention of national and international traditional and online media, including
Kerrang!
,
NME
,
Rock Sound
,
Drowned In Sound
,
Artrocker
,
Clash Magazine
and
Kruger Magazine
.