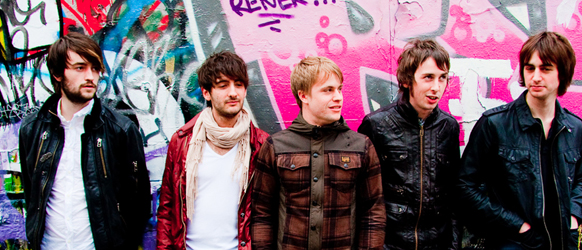 Pose Victorious
OnlinePrint
"They have the capacity to be huge" – The Fly
Beneath The Lighthouse
is the second EP from
Pose Victorious
, and is due to be released on June 6th 2011. It sees the band returning to the roots of rock and roll craftsmanship. The band, formed in Scotland in 2009, is comprised of former roommates
Ross Millar
(vocals),
Jack Rowberry
(lead guitar),
Gordon Barclay
(rhythm guitar),
Gavin White
(drums) and
Jordan Laird
(bass). They were taken under the wing of veteran producer
Owen Morris
(
Oasis
,
The View
), culminating in the release of their self-titled debut EP in late February 2010. Since then, the boys have been touring the UK (which saw them play alongside
Razorlight
,
The View
and
Mark Morris
of
The Bluetones
), setting a fire under the press (with regular features on
Gill Mills' Best Of Myspace
podcast) and gaining comparisons to indie legends such as
Glasvegas
and New York garage rockers,
The Strokes
.
Each song on this EP creates a self-contained story, with opening track "Off The Rails" taking the listener on a foot stomping journey through the ennui of the live fast/die young lifestyle, and the isolation that comes with it. "Run To Sea" captures the flush of first love, while "High As The Sky" is an outlaw love story hearkening back to tales from the old west. "Autumn Leaves" allows the boys to slow things down and show off their talent at manipulating melody before closing track, "Try Harder", grabs you by the hand and walks you through a night on the town with the lads, hipflask in pocket, sneaking drinks at the back of the pub.
Beneath The Lighthouse
is due for release via
Angle Park Records
on June 6th, and is sure to prove popular with fans old and new following their successful tour of the UK.
Listen to Pose Victorious
Pose Victorious in the press...
Features & Interviews